From The Desk of CEO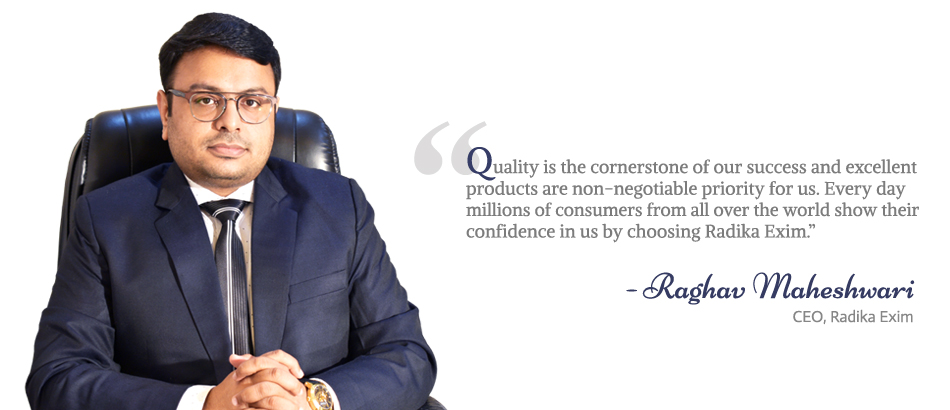 We have a long and proud history of having our establishments in India. Our organization had started the first activity in 1971 with core values and ethics. Our sincere efforts have made our organization a part of India's way of life and we continue to build our legacy of producing nutritious food, with great taste, convenience, and most importantly, manufactured with best quality standards.

Our priority still remains our consumers, who we believe are at the heart of our existence. While we are a global company with a nice track record in quality standards that are never compromised.

Quality is the cornerstone of our success and excellent products are non-negotiable priority for us. Every day millions of consumers from all over the world show their confidence in us by choosing Radika Exim products.

This confidence is based on our quality image and a reputation for high standards that has been built over many years and the Radika Exim brand name on a product is a promise to you that it is safe to consume and complies with both local and international regulations. You can rely on our trusted brands. Of course, there is more to business than just doing business. To show our commitment to all our stakeholders and increase their trust in Radika Exim, we have embraced a business principle called Creating Shared Value (CSV), which is a declaration that, for us to be successful in the long term we have to create value not only for our shareholders but also for people in the communities where we do business.

I would like to sincerely thank you, our valued consumers, for your continued support in ensuring that we become a leading Nutrition, Health and Wellness organization.